Carlo Actis Dato Quartet
Members besides Carlo Actis Dato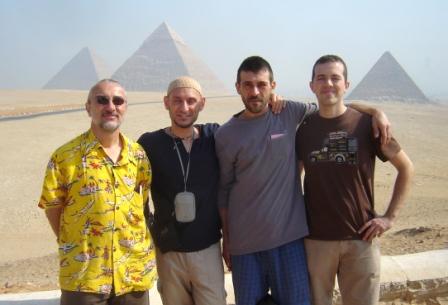 Beppe Di Filippo – soprano & alto saxes
He started playing in '89, in '91 founded the group I.I.I. (Improvvisatori Indipendenti Italiani). With them he played in I and II Festival Internationales Rock & Jazz in Biberach (Germany), Festival dall'America al Basso Tuba, Summertime in Jazz '93 – Prato (concert recorded on Splasch), Festival Jazztime Ravensburg '95. He also played solo performances in Festival "Percorsi" every year from '96 to '99. With the Fiati Pesanti Group he played in International Jazz Festival in Montreux in '95, Ferrara Festival Buskers '97, Festival Semana Negra Gijon (Spain)' 98. He played with Actis Dato QuartetAtipico Trio, Tony Scott, Italian Instabile Orchestra, Alberto Mandarini, Hasta Big Band, Daniele Patumi, Giovanni Falzone, Enrico Fazio septet, LucaCalabrese, Jazz en Pais Big Band, Emanuele Cisi, Gianni Basso, Mau Mau.…
He played: in Canada: Vancouver, Montreal, Ottawa, Toronto,in Australia: Perth e Melbourne, in Serbia: Belgrado,in Ungheria: Budapest, in France: Parigi, Nevers, Le Mans,Grenoble,Belfort, Saint Gaudent,Chambery, in Spain: Gijon, Madrid, Valladolid, in Romania: Bucarest, in Germany: Monaco,Ulm,Dresda, Jena,Burghtan, in Rome at Auditorium Parco Della Musica,in Torino at Auditorium Agnelli del Lingotto...
Matteo Ravizza – bass
Born in 1981, enters the world of music at 5 years studying classical guitar, he graduated in 2004. During adolescence he plays the alto sax in the marching band of his country. He discovered a strong passion for the bass guitar in eleven years. Twenty undertake the activities musician with groups of popular music, dance orchestras, cover band. Refine the technique with Paolo Costa. Also studied trombone and tuba. It approaches to jazz and plays in several quartets. Today studies doublebass and jazz at the Conservatory of Parma with Roberto Bonati; collaborates with Carlo Actis Dato (Musique Vivante and Actis Furioso), with the artist at 360 ° Antonio Catalano in the show "Serenate for the new world"; he's part of Hasta Jazz Orchestra, directed by Alberto Mandarins (Asti Musica, 07) and the Meteo quartet (rassegna Suoni e venti, Chieri 07; Jazz sotto le stelle, 06, 07, 08, Asti e province; Muri Maestri, Cerreto d'Asti, 07) . He collaborated with the Orchestra of Ducati (Teatro Nuovo, Milan, 08), Emiliano Vernizzi quintet, big band Skanking Jive Faenza (Theaterwerkstatt of Schwabish gmund, 07, Germany). He has played with, Gianpiero Malfatto, Gianni Virone, Rudy Migliardi, Alberto Mandarini, Daniele Tione, Alessandro Chiappetta, Marius Seck ... He has recorded 2 albums with Carlo Actis Dato: "Dolce Vita" and "World People."
Daniele Bertone – percussion, drums
Born in 1974 at Pinerolo (Turin) Italy. As a child, he began studying privately piano and accordion. At sixteen years he discovered African and Afro-Latin ethnic percussion, He began studying with the percussionist Alex Rolle and introduced himself into various local groups, collaborating also to the accomplishment of a didactic video on the teaching of African music with Frank D'Andrea. Whilst studying music in general and the drums. He began working in the field of the "expression, of African dance playing also for the choreographer/artist V. Harisdo together with some of the percussionist from Benin. He also participated at numerous African stages of music (M. Sanogo, I. Traorè, A.Kienou…). In 2000 and 2001 he played with "Les Tambours de Baol ", a group of traditional African music directed by the griot Senegalese Mor 'Ngom. He collaborates with theatrical and musical groups, and with various dancers. During his journeys in Africa meeting up and playing with local musicians, perfecting the knowledge of the traditional music, of the dance and of many different aspects of the African culture. In Ghana, he took various courses in local schools (Agoro Project).,whilst taking part in stages of the drums and music-therapy.