Musique Vivante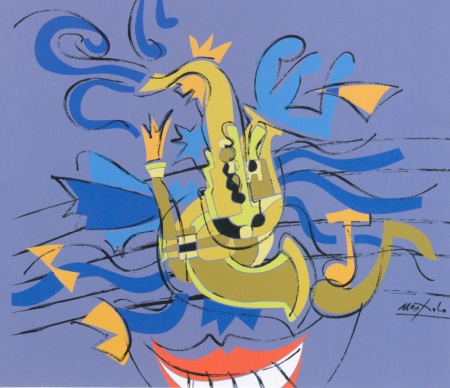 The most recent group coming from the verve of Carlo Actis Dato, in which the music becomes a real show of improvisation, in both music and the vision.
Musique Vivante is made up of young musicians, future promises in the world of Italian Jazz.
All of the music is composed by Carlo Actis Dato, who is influenced by Jazz, Mediterranean & Middle eastern ethno, funk, RnB, African & Caribbean music, Salsa, Capoverde's Morna, the sounds of Balcans and Southern Europe.
The group therefore plays music in an art form made easy to listen to by means of references and musical quotes belonging to everyday sensations. Avoiding sterile intellectualism and useless virtuosity, the music is offered to the people in a way that they can recognize and find themselves in it.
Members besides Carlo Actis Dato
Giampiero Malfatto (trmobone, tuba, flute). Born at Nizza Monferrato in 1971. Studying at the Conservatory of Alessandria and then in that of Turin, where he graduated with the Teacher Capriuolo. He is a very sort after musician for not only the classic field but also that of modern. He has collaborated with: The National symphonic Orchestra of the R.A.I Italian Broadcasting Corporation, Symphonic Orchestra G. Verdi from Milan, Royal Theatre Orchestra in Turin, Academy of "Stefano Tempia" and many other symphonic orchestras. He plays with Chamber music formations: Symphonic Brass Ensemble, New Brass Ensemble, Divertimento Ens, Only Brass ecc. In the Jazz world, he has played in the sextet of A. Mandarini, in the group of E.Fazio, in the Grand Orchestra AMJ, orchestras directed by Giorgio Gaslini, in the Italian Instabile Orchestra, in the tentet Actis Furioso, in the group of G. Schiaffini. For the Pop music, he has collaborated with Paolo Conte, Mau Mau, G. M. Testa, Subsonica. He has played on around 30 productions for record companies, and has performed in many TV shows for Rai, Italian Broadcasting Corporation.
Enrico Negro (trumpet). Born in Vercelli, Italy in 1980. He began to play the trumpet at the age of 14 and in 2005 he graduated at the Conservatory of Novara with maximum votes. He takes courses of improvement with the Teacher Cassone, dedicating special attention in the study of the natural trumpet, that is to say the ancient trumpet relevant to the baroque period. He has taken part in many different international seminars with international professionists, like Fred Mills (Canadian Brass), Piero Contit, Guido Segher (Munchner Philharmoniker) and others. In the classic field from' concerts as a soloist and in duet with the organist Guido Donati, teacher at the Conservatory of Turin. He collaborates with numerous symphonic groups, companies of opera, & big jazz bands. In 2005 he toured Germany and Japan for 3 months with the symphonic orchestra "Holstein music orchestra" of Hamburg. He studies the jazz trumpet with Alberto Mandarini and collaborates with the group Actis Furioso, as well as his jazz quartet.
Matteo Ravizza (bass, trombone). He is born in 1981 Asti Italy. He has been studying the guitar since the age of six, Winning quite a few regional competitions. He plays alto sax in quite a few different bands. He graduated in guitar at the Conservatory of Novara in 2004. From the age of ten he has also been playing electric bass, working with a lot of Italian cover bands. He collaborates with many musicians from the Rai Italian Broadcasting Corporation, and with various Italian Pop bands, also he has taken part in many studio sessions. He started playing trombone and bass tuba, attending improvement courses. In 2004, he made a trip to South America to improve his knowledge of the Cuban music playing with local musicians and studying with Alex Bello.
Daniele Bertone (percussion, drums). Born in 1974 at Pinerolo (Turin) Italy. As a child, he began studying privately piano and accordion. At sixteen years he discovered African and Afro-Latin ethnic percussion. He began studying with the percussionist Alex Rolle and introduced himself into various local groups, collaborating also to the accomplishment of a didactic video on the teaching of African music with Frank D'Andrea. Whilst studying music in general and the drums. He began working in the field of the "expression, of African dance playing also for the choreographer/artist V. Harisdo together with some of the percussionist from Benin. He also participated at numerous African stages of music (M. Sanogo, I. Traorè, A.Kienou…). In 2000 and 2001 he played with Les Tambours de Baol, a group of traditional African music directed by the griot Senegalese Mor 'Ngom. He collaborates with theatrical and musical groups, and with various dancers. During his journeys in Africa meeting up and playing with local musicians, perfecting the knowledge of the traditional music, of the dance and of many different aspects of the African culture. In Ghana, he took various courses in local schools (Agoro Project), whilst taking part in stages of the drums and music-therapy.
The Record