Carlo Actis Dato - Tenor & Baritone saxes, Bass clarinet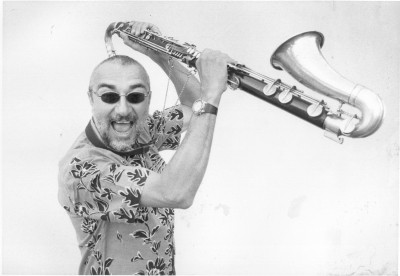 Photo by Agostino Mela
---
CARLO ACTIS DATO - tenor & baritone saxes, bass clarinet
Born in Turin on 21 March 1952, he has been living in the South of Italy during the childhood. His grandfather played trumpet in the folkloristic band of his village in Piedmont, North of Italy.
He started to play clarinet, then he played sax in several band of dancing music, rhythm 'n' blues, and swing.
Since the early 70s he has been dedicated to concertistic and discographic activities, appearing in more than 85 records for international labels in Italy, United Kingdom, Germany, Japan, Canada; figuring as leader or co-leader in half of them. American Magazine "Down Beat" 'critics'poll from 2001 till now ranked him among the best baritone-sax players worldwide (first italian jazz musician to reach nomination).
Many magazines have published articles and interviews about Actis Dato: Coda (Canada), Jazzmann, Improjazz, Jazz Actuel (France), Jazz Podium (Germany), Jazz in Time, Jazz Around (Belgium), Margen, Jazzology (Spain), Jazz & Tzaz (Greece), Musica Jazz, Musiche, World Music, Jazz'n'Around, Jazzit, Jazzmagazine (Italy), Jazzlive (Austria), Cadence (USA), Jazz Hihyo, Jazz Live, Out There, Ambos Mundos (Japan).
He made concerts in all over Europe and also in Canada, U.S.A., Antilles, Argentina, Senegal, Japan, SouthAfrica, Ethiopia, Indonesia, Kenya, Egypt, Tunisia and Morocco.
He leads his own Actis Dato Quartet, exhibiting in the following Festivals:
Australia : Perth ,Canberra Melbourne ('09) Perth,Melbourne('06), Sydney,Melbourne('04). Japan: Tokyo(ArcHills'99), Fukui,Tokyo, Yokohama('00), Yokohama, Fukui ('01). SouthAfrica: Durban,Capetown('04). Ethiopia: AddisAbaba('01,'05,'07,'08). NewZealand: Auckland,Wellington('04). Kenya: Nairobi('08). Yugoslavia: NoviSad, Beograd, Kragujevac(01). Tunisia: Tunis, Tabarka(01). Croatia: Zagreb('01). Morocco: Rabat ('09) Rabat, Casablanca('99). Lithuania: Vilnius, Klaipèda, Kaunas('02). Canada: Montreal('91),Ottawa, Edmonton,Calgary, Hamilton,Toronto ('92), Ottawa, Vancouver, Toronto(04). French Antilles: Martinique ('92). Egypt: Cairo('08). Greece: Patras ('94). Hungary: Budapest '07. Belgium: Oupeye('93), Bruges('99). Holland: Amsterdam, Utrecht, Groningen, Rotterdam ('02). Austria: Wiesen(93), Wien(05). Finland: Turku('91), Raahe('94),Kajaani(2000). Switzerland: Zurich('87), Lausanne('88), Basel('89). Slovenia: Lubiana('01). Germany: Koln('88), Villingen, Aachen ('89), Nurenberg, Leipzig ('94), Berlin, Jena('96), Hamburg, Münster, Ulm('97), Mainz,Nurnberg('98), Senden('99), Vilsophen('00),Jena,Altenburg('04). France: LeMans,Angers, Nantes('88),Strasbourg('89), Rive-de-Gier('90), Coutances,Mulhouse('91), Toulouse, Bretagne, Mimi, Uzès('92), Grenoble('93), Oloron('95), Besançon('97),Valence, Metz, Longwy,GermLouron('98), Apt,Perpignan, Valence ('00), Grenoble, Coublanc('01), Planèzes('02). Italy: S. Anna Arresi, Iglesias ('88), Cagliari, Torino, Boulogne, Torbole, Noci, Aosta, Poli-gnano, Clusone (89), Como, Trento,Siena ('90), Gibellina,Vicenza, Palermo ('91), S. Arcangelo (92), Sassari,Verona,Ruvo(93), Ragusa, Firenze('94), Vittorio Veneto, Taranto ('95), Castiglioncello ('96), Lucca, Chianciano, Ruvo ('97), Pozzallo, Siracusa,Pisa('98), Roma-RAI, Tivoli, Roccella Jonica('99), Quartu(00), Giaveno,Forte dei Marmi, BeneVagienna, Amelia(01) ,Chieri, Castelbasso, Guardea,Crema ('02), Padova, Berchidda,Pisa(04).
Also exhibiting in clubs in, Munich,Paris, Amsterdam, Athens, Zürich, Frankfurt , 15 dates tour in France (Jan. '98), Japan (Tokyo '99 - 12 concerts, 9 concerts '00,10 concerts'01),and all over Italy and Europe.
The quartet, assembled in 1984, has participated to radio broadcast programs for the national networks in Italy, Sweden, Finland, Germany, France and Switzerland. In the annual referendum of music critics for "Musica Jazz" magazine it was ranked for seven times among the top Italian groups. His records have been appreciated by jazz magazines worldwide (Cadence, Coda, Swing Journal, Jazztimes, Down Beat, Wire, Jazzthetik, Jazz Podium, Jazz Nu, Granslost, Jazz Magazine, Jazz in Time, Improjazz, Musiche, Jazzit, Jazz & Tzaz, Margen, Jazzology, Cuadernos de Jazz, Blu Jazz, Jazz Live, Jazzman, Ritmo, Jazz Hihyo,Out There, Jazz Life) and are quoted on "The Penguin Guide to Jazz" and on Larousse Encyclopaedia.
The Japanese review Jazz Hihyo has indicated "Ankara Twist" and "Blue Cairo" as the best exemples of European jazz. "Down Beat" has licensed "Bagdad Boogie" with four stars. "Cadence" has "Noblesse Oblige" and "Ankara Twist" among the best records released worlwide for '87 and ' 91.
He leads Actis' Band, a new music band with aggressive-downtown style, playing in Germany, Indonesia, Belgium, Finland, Switzerland, Slovenja and Italy, second best italian jazz group for " Musica Jazz"critics referendum in 2002 and 2008.
He leads the nonet Actis Furioso (Italy, Serbia ,France, Germany, Spain).
He co-leads Atipico Trio (reeds only): Festivals in Berlin, Espoo-Helsinki, Le Mans, Wiesen, Weiz, Florence, Ruvo, Noto, Asti, Milan, Prato, Dresden, Jena, Ulm, Madrid, Sibiu(Romania).
He plays Solo recitals: Ruvo, Ragusa, Sarzana, Asti, Vasto, Lanciano, Bologna (Angelica), Turin, Torbole, Nimes, Le Mans, Vicenza, Rive-de-Gier, Pisa, Perpignan, Siracusa, Crema, Roma, seven tours in Japan, Vancouver (Canada-Nov. '98), Chicago,Genova, Cosenza, two tours in USA and Canada('01 and '02), Sarajevo, Skopjie, Belgium, Germany...
He co-leaded Tree (trio with cello and percussion): Genève, Ulm, Milan, Turin, S.Miniato, Ivrea, Trieste, Palmi
And Brasserie Trio: Festivals in Nevers, Grenoble, Mulhouse, Le Mans, Perpignan (France), Moers (Germany), Saalfelden(Austria),Clusone, Berchidda, Pisa, Roma, Mantova, Ruvo (Italy).
In Duo with Enzo Rocco he played in France, Belgium, Holland, Japan, Lituania, England, Scotland, Ireland, Danmark, Sweden.
In Duo with Baldo Martinez he palyed in Spain, Italy,Romania.
He plays with Pino Minafra Sud Ensemble: Marseille, Avignon, Nevers, Mulhouse, Le Mans, Paris -Baulieues Bleues, Paris-La Villette, Perpignan, Rive-de-Gier, Besançon (France); Vilsophen, Giessen, Berlin, Wuppertal, St. Ingbert, Münich, Mainz, Stüttgart, Leipzig, Karlsruhe, Esslingen, Regensburg, Mannheim (Germany); Anvers, Oupéye (Belgium); Varna (Bulgaria); Victoriaville (Canada '95); Toronto, Québec, Vancouver, Saskatoon (Canada '96); Salzburg, Wien (Austria); Bath (England); Zürich, Roma, Ragusa, Foggia, Taranto, Ruvo, Tivoli, Cremona, Lugano, Siena, Prato, La Spezia, St. Vincent, Berchidda, Andria, Lentini, Firenze, Coutances, Ruvo, Posada, Bologna.
He play with Viva La Black de Louis Moholo and Keith Tippett: Paris, Bari, Sardinia,Le Mans,Lubiana.
Played with Enrico Fazio Sextet: Lyon, Nevers, Clusone, Ruvo, Taranto, S.Anna Arresi, Asti, Salzburg, ten concerts in Argentina (tour '91), Vercelli, Torino. With Ellen Christi Quintet: Grenoble, Bologna, Wiesen (Austria), New York, Toronto, Erie, Hartford (USA), one week tour in Senegal (1993). With Giorgio Occhipinti Nonetto : Amsterdam, Ragusa, Biel, Mainz, Cremona, Bruges, Liege, Mulhouse, Siracusa, Portugal.
He is a member and a composer of the Italian Instabile Orchestra, five times voted as the best group in Italy: Noci, Rive-de-Gier, Münich, Moers, Bolzano, Mùlhouse, Zürich, Nevers, Le Mans, Vilsophen, Rome, Verona, Nürnberg, Milan, Florence, Roccella Jonica, Bergamo, Ruvo, Ragusa, Grenoble, Chambery, Cremona, Tivoli, Turin, Berlin, Köln, Amsterdam, Paris, Willisau, Ferrara, Oporto (Portugal), St. Ingbert, Genova, Lucca, Pisa, Valence, Vignola, Berchidda, Madrid, Lisbon, Münster, Venezia, Canada tour 2000, Chicago, Portugal '01, Makedonia, Slovenia.
He was co-founder in '74 of the Art Studio group, one of the first to play new jazz in Italy (Paris: Maison de la Radio, Modern Art Gallery, Théatre Dunois, several clubs; Bimhuis in Amsterdam and at the Intenational Festivals of Sens, Chantenay, Belfort, Tubingen, Milano, Vercelli, Palmi, Brescia, Padova, Reggio Emilia, Modena, Foggia, Firenze, Lucca, Piemontejazz, etc.; with the vocalist T.Ghiglioni in Bologna, Ivrea, Torino, Pisa).
He was a member of Democratic Orchestra (Grenoble, Rive-de-Gier, Milano), Mitteleuropa Orchestra (Ravenna, Alassio, Lingotto, Vienna, Monaco, Bari, Bologna, Udine, Lignano, Siviglia Expo '92), Mama Quartet , Stefano Maltese Ensemble (Cremona, Roma), and many other groups with whom he participated to many Festivals in whole Europe.
He has done saxophone masterclasses in Tokyo, Vigo, Tunis, Djakarta.
He 's Artistic Director of the "Italia in Fufui" festival – Japan.
He took part in many dance and theatre performances.
He teach saxophone in Civic School of Torino.
He played with David Murray, A.Braxton, E.Rava, B.Phillips, M.Dresser, G.Gaslini, R.Garrett, J.Shahid, T.Oxley, G.Sommer, A.Vapirov, A.Tomlinson, C.Zingaro, F.Koglmann, J.Dvorak, A.Salis, M.Nicols, S.Kassap, L.Konté, L.Jenkins, L.Moholo, O.Lake, K.Umezu, L.Bowie, D.Sanborn, Cecil Taylor, M.Satoh, S.Fujii, Ohta, T.Kondo, L.Bowie, W.Horvitz, K.Vandermark, J.McPhee.....
http://www.actisdato.it

e-mail:

actisdato@libero.it
Mobile:
0039 3476830836