Actis Band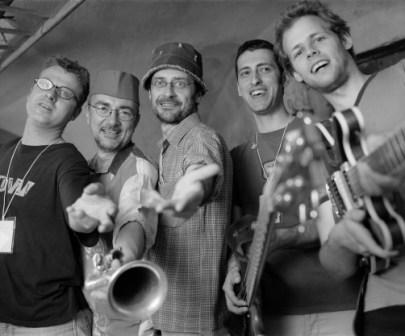 A wild band. The Italian answer to the New York's downtown scene.
Combining avant-garde solos and upbeat funky rock.
Tearing the hide of the ball and covering a wide ground.
The players manage to weave a surprisingly tight patchwork of contrasting traditions.
Thick, fat-bottomed electric bass, trip-hammer drums and frenetic reeds all blend on aggressive guitar.
Members besides Carlo Actis Dato
Massimo Rossi studied harmony and choral music at the Turin School of Music and jazz in the workshops in Siena and Loano. He has written music for the Arigret group (CD for CMC Records) and he played in many festivals and clubs in Germany. With his quartet Misterioso he has recorded two CDs, played at the Assier festival in France and toured Sweden. He also composes music for actors and dancers.
Karsten Lipp was born in Bremen, Germany. He graduated in Berlin with F. Mobius and then attended the Musikhochschule in Cologne, where he won a study grant for the Siena jazz school. He has attended workshops with D. Baker, D. Liebman, R. Beirach, B. Hart and J.Taylor. With his Trio, he has won the "Ernst & Young Jazz Award in Rotterdam, played in Maastricht and recorded a CD in Hamburg. He lives in Turin.
Federico Marchesano graduated in double-bass from the Turin School of Music and plays with some of Italy's best known Symphony Orchestra, including the Santa Cecilia in Roma and the RAI Italian State Radio and Television l Symphony Orchestra. He has toured France, Germany and Britain with the European Youth Orchestra and played in South America and the USA with the RAI Symphony Orchestra. He plays with Arigret, Misterioso and Louis Sclavis' European Jazz Odyssey.
Dario Bruna has been concentrating on concert work with many jazz and rock groups playing in northern Italy since 1986. He has taken part in the Umbria Jazz and Siena workshops. He has played with Arigret in many European festivals and with his Punto.it.trio in the Magdeburger Jazz Festival. His interests make him an esteemed abstract painter . He also works as a music therapist.
Festivals : 2001: Freiberg(Germany), Schio, Caraglio, Teano (Italy); 2002: Ventotene; 2004: Sion (Switzerland), Russelsheim, Freiberg (Germany), Cerkno (Slovena), Brugge (Belgium), Varese, Thessalonika (2004 Olympic Games-Greece), Jakarta(Indonesia), 2005: Tampere(Finland), 2006: Tornio (Finland), Limburg (Germany), Caltanissetta, Rive-de-Gier (Francia), 2007:Rive-de-Gier (Francia)….
Albums
: "Son para el Che" - 1997 - Splasch R.
" Don Quijote " - 2001 - Splasch R.
" Garibaldi " - 2002 - Leo Records
" On Tour" - 2004 - Splasch R.
" Allende" - 2005 - Leo Records
" Cina ! " - 2007 - Leo Records
The band was ranked at the second place in the critics' referendum Top Jazz 2002 of the music magazine "Musica Jazz" (best Italian Bands)
The Records